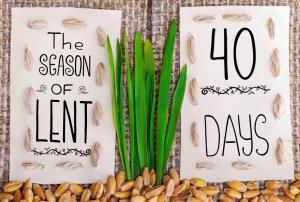 Lent is upon us and many of us are still praying and thinking about what Lenten sacrifice or practice we should implement over the next forty days. Sometimes it can be difficult to know what we should do for Lent. Of course there are the popular ideas of giving up social media or giving up chocolate, and while these can absolutely be helpful to our personal growth and relationship with God, these and other popular Lenten ideas can often be chosen with no particular personal meaning behind them. 
Lent is not simply a time where we deprive ourselves of joy for a few weeks—just because. It is a time where we are supposed to focus on our own personal relationship with God, developing our mental, personal, and spiritual health—so that we can make more room for God in our every day lives. As Christopher West describes, Lent and fasting is "never an end in itself, it's a means to the joy of the feast." Lenten practices are meant to reveal to us the full and true joy of the Easter Season and God's love for us every day of our lives. 
So what are some ways for us to achieve the fullness of Lent and the gain the most out of our Lenten practices? Here are a few ideas…
Give up trying to do everything by yourself – Self-sufficiency and independence can be great qualities to have, but there is true beauty and humility in acknowledging when we need help from others. Asking others for help can foster fruit in a variety of areas. We can develop our relationships with others when we let them into our lives in ways that allow them to take care of us in some way. Likewise, when we are always trying to do everything by ourselves, and we're constantly taking care of others without letting them take care of us, resentment often grows without us even realizing. This resentment can creep up on us and damage our relationships with others and with God. So this Lent, take a step back, give up stubbornness, embrace humility, and reach out to others when help is needed. Or simply allow others to help if and when they offer. 
Give up overthinking and jumping to conclusions – This can be a hard one, but wow it makes a huge impact. When something small occurs, it can be all too easy—even automatic—to ruminate on the situation, overthink, and come to negative and often unrealistic conclusions. Not only can this ruin our day in about five seconds, it can also heavily impact our relationships. We may treat others differently because of a conclusion that we developed in our heads, and the other person will have no idea why we are acting the way we are acting. But how do we stop this habit of overthinking? First, take interactions and situations at face value. Don't add ideas, put words in others' mouths, or create outcomes that aren't based in facts. Second, when these negative thoughts or overthinking spirals begin, instead of thinking of the most negative conclusion, intentionally think of the best possible outcome. At this point, we often begin to question, "What's the point of thinking of the best possible outcome? It probably won't happen." Now, when this question arises, ask the same question about the negative outcome. "What's the point of thinking of the worst possible outcome? It probably won't happen." Exactly. The difference, however, is that thinking of the best possible outcome gives us hope, while thinking of the worst outcome makes us want to give up. Hope gives us joy and helps us grow closer to God. Because of this, thinking of the positive scenarios is the more Godly practice. 
Give up over-scheduling and overworking – We live in a society that is extremely focused on achievement. Especially because of social media, we constantly feel the need to be doing something and to be able to say, "I'm so busy!" Sometimes it almost becomes a competition to see who has the busiest schedule. Being this busy leaves very little time for fun, for enjoyment, for relaxation. We lose touch with who we are as individuals, as a couple, or as a family because we are so focused on getting to the next activity or working on the next project. Give up this over-scheduling and overworking habit this Lent by setting aside time to do something that gives you joy. Make time to relax and spend time together as a family. Instead of scheduling an event or a project for work, schedule time for a date night. Whether you just hang out at home and enjoy the peace and quiet or you take a day trip to one of your favorite spots, regularly make time this Lent to step back, relax, and prioritize time to do something that brings you—or you and your family—joy.
These are just a few ideas to bring us closer to God this Lent. We don't have to choose one of these ideas, and we certainly don't have to practice them all. Maybe choose just one thing to work on this Lent. But as we decide what it is we will practice, let us start by asking God, "What barriers need to be removed in my life for me to be able to love You and love others the way You want me to?"  
For more on developing a deeper relationship with God, tune in to More2Life—weekdays at 10am E/9am C on EWTN, SiriusXM 130 and find more resources by visiting us online at CatholicCounselors.com!