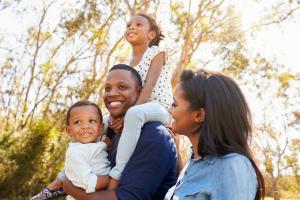 We all want the best for our children: for them to succeed, be happy, and be their best selves. But did you know that you can even have an influence on your child's financial security later in life simply through the way that you parent? 
A study out of the University of Arizona found that "people with high attachment anxiety and people with high attachment avoidance both reported low life satisfaction and low relationship satisfaction. Those with attachment anxiety also reported low financial satisfaction." 
Likewise, the study revealed that those with high anxious or avoidant attachment—both types of insecure attachment—"engage in more irresponsible financial behaviors."
Often as parents we feel that there are only certain areas of our children's lives that we can truly influence. But in reality, focusing on fostering healthy attachment with our children can set them up for long term success in all areas of their lives—even down to their financial security and success as adults. 
Here are a few ways to cultivate healthy, secure attachment with your children:
Respond Promptly and Consistently—starting as early as birth, we can begin to set our children up for a lifetime of success by responding to their cries, needs, and concerns promptly and consistently. Research shows that babies who are responded to by their parents in a way that is loving, generous, prompt, and consistent develop a stronger and healthier sense of self, greater independence, as well as more positive relationships and coping strategies than those whose  needs were not met in such ways. 
Date Your Kids—Spending one on one time with our kids in both big and small ways helps our children develop a greater sense of identity and self worth. Sometimes it feels difficult or even impossible to get time with each of our kids to go out to dinner one on one, go to a movie together, or attend an event with them. But while these larger ways of spending time with our kids are important and wonderful when possible, we don't have to wait for an entirely free day or evening to spend one on one time with our kids. Spending 15 minutes to take a walk with one of our children, running to grab coffee, or joining with them and doing chores together instead of separately are just a few ways we can spend quality time with our kids on a daily basis. 
Physical Affection—When we hug our kids (or anyone for that matter) our physical bodies—such as heart rate, respiratory rate, etc.—sync up. When we do this often with our kids through hugs, cuddling, gentle/loving touches, we are helping them learn how to emotionally regulate and we are creating the bond of healthy, secure attachment.
For more information on how to cultivate secure attachment in your children and set your kids up for success, check out Parenting With Grace: The Catholic Parents' Guide to Raising (Almost) Perfect Kids!