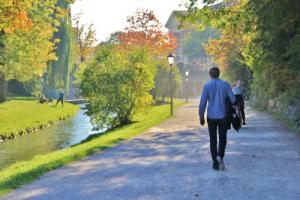 As the weather warms up, our ability to spend time outdoors increases. While we are aware that this may make us happier in the moment, new research shows that spending time outside has a significant impact on improving our mental health.
A recent study published in the International Journal of Environmental Health Research reveals that spending 20 minutes in a park, regardless of physical exercise, can have lasting health and mental health benefits. 
"Principal investigator Hon K. Yuen, Ph.D., OTR/L, discovered park users experience physical and mental health benefits such as stress reduction and recovery from mental fatigue."
This and similar studies reveal how even small things can make a big difference in improving our mental health. Here are a few tips to improve your emotional and physical health today:
Take time each day to do something you enjoy—Take at least five to fifteen minutes each day to do something that brings you joy. Reading, taking the long way home so you can spend a few more minutes driving and listening to your favorite music, drawing, writing, or doing a brief workout are all examples of activities that you can do even for just five minutes a day. Taking this time to do something that brings you joy allows you—no matter what kind of day you had—to feel as though you were productive, experienced peace and happiness, and even gives you something to look forward to the next day. Whatever your favorite activities is, try to spend at least five to fifteen minutes each day engaging in that activity. 
Be present—It's often easy to get engrossed in the chaos of daily life, and when this happens, we often experience a sort of "tunnel vision" where we are so focused on the task or tasks in front of us, we unintentionally forget what is going on around us. To avoid this tunnel vision mindset, take moments throughout the day to look up and look around. Notice the ceiling, let your eyes rest on a part of the room you don't usually look at, note what sounds are going on around you, even what smells are in the air. Doing this periodically throughout the day helps to bring us back into the present moment and acknowledge what's going on in the world around us and takes us out of feeling "trapped" by the things we have going on in our lives. 
Express gratitude—Make a list of three to five things you are grateful for each day. This can be a physical list that you write down or just a mental list that you reflect on during your day. Acknowledging the things that we are grateful for each day does not mean minimizing our struggles by saying things such as, "I have things to be grateful for so I shouldn't feel ___." Expressing our gratitude allows us to acknowledge the blessings that we have in our lives, it highlights the positive things, however it does not mean that our struggles do not matter. The intention is to lighten the load of those heavier things. Or simply find the joy among the potential chaos. 
For more on increasing happiness in your daily life check out The Life God Wants You To Have and tune in live to More2Life—weekdays at 10am E/9am C on EWTN, SiriusXM 130!