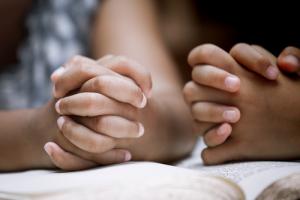 We all want to teach our children to develop their own faith identity and relationship with God, but how do we do it?
For kids to own their faith, the most important thing is to help them experience Jesus Christ in a meaningful, personal way.
The best way to do that is to teach them to talk to God just as they would talk to the person who knows them best and loves them most—because he does. While FORMAL prayer helps give kids a sense of belonging to God's family, the Church, CONVERSATIONAL prayer helps kids realize that God is interested in having a more personal relationship with them as well.
The best way to encourage your kids to experience God this way is to model conversational prayer for them.  Let them hear you thanking God for little blessings throughout the day, asking for his help, praying—out loud—about your big and small decisions, and inviting him to be a part of your everyday life.
Of course it's important to teach them how to do the same thing. When they tell you about something good that happens in their day, tell them how proud or happy you are first, but then say, "Let's thank Jesus for that together."  Then help them find the words to thank God, out loud, for that blessing.
If your kids are struggling or hurting—physically or emotionally—by all means attend to their boo-boo's, or encourage them with whatever support you can give first, but then say, "Let's ask God for his help with this."  Then help them talk to God about their struggles the exact same way they would talk to anyone else they needed help from.
Show them how to relate to God as if he was right there next to you, listening, just waiting to be invited to be part of the conversation and to help in any way he can–because of course, he is!
To explore more ways to help your kids fall in love with God and their faith, check out Discovering God Together: The Catholic Guide to Raising Faithful Kids.