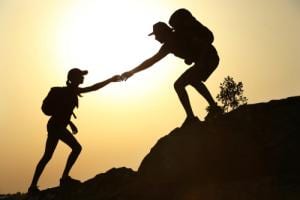 The comfort zone. We all have one. We believe our comfort zone makes us happy, keeps us safe, and helps us maintain our lives. But new research shows that might not be true.
Whether it comes to relationships, our work lives, our friends, or our personal lives, we all have our comfort zone—our set way of doing things—that we typically prefer to stay in. But a new study demonstrates the benefits of going outside of our comfort zone and how doing this actually makes us happier.
Researchers at the Universe of California—Riverside asked 123 participants who identify as introverts to push the boundaries of their willingness to engage with others for one week, while participants in a control group were asked to maintain their usual boundaries and act as they typically behave. At the end of the study, those who pushed their boundaries and went outside of their comfort zone reported having more pleasant experiences and being happier throughout the week. 
Lyubomirsky, a UCR psychologist and co-author of the study stated, "The findings suggest that changing one's social behavior is a realizable goal for many people, and that [doing so] improves well-being."
So how do we increase our happiness and successfully expand our comfort zones?
Exercise your strengths—What are the things that you're good at? Make a list of your strengths and then choose one each day to practice in some way. Generous? Pay for the coffee for the person behind you in line! Good listener? Take an extra minute to really ask someone how their day is going. Organized? Clean up that stack of papers that's sitting on the counter. These are examples of small ways that we can be intentional about going outside of our typical routine and help us be the best version of ourselves in our every day lives!
Ask yourself one, simple question every day—Ask yourself, "What is one thing I can do today to make someone's day better?" Asking ourselves this question sets the intention that we are looking for ways to reach out to others. Does your partner have a favorite snack? Pick it up on the way home from work! Is someone walking through the door behind you with their hands full? Wait that extra second to hold the door for them, smile and greet them as you do so. Do your kids have a favorite game? Put that chore aside for a few minutes and play their favorite game with them! Putting others first and looking for ways to make another's day better helps us expand our focus from our own comfort zone to the happiness of others.
Focus on your successes—We do a lot in a day. But because we're so used to doing what we do, we don't even notice all of the things that we are accomplishing. Because of this, we're often left feeling drained at the end of the day, too tired to do anything else, but we don't even REALLY know why. Start writing down the things that you are accomplishing throughout the day. Did the dishes? Write it down. Stayed awake during that boring work meeting? Write it down. Cleaned the bath tub? Write it down! No task is too small. Writing down your success, such as in the form of a "Got-It-Done" list will help you remember all the things you "got done" throughout the day leaving you feeling accomplished and less drained. Focusing on our successes sends the message to our subconscious that we are capable of achieving goals. Sending this message to our brain makes it much easier to change our behavior in other, desired ways. 
For more resources on how to live a happier life visit us online at CatholicCounselors.com and be sure to tune in to More2Life—weekdays at 10am E/9am C on EWTN, SiriusXM 130!