The Pastoral Solutions Institute (www.CatholicCounselors.com) is pleased to announce that we are  seeking a new Catholic therapist to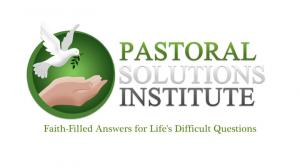 join our team.  If you are interested, please read the following carefully.
About the Institute
Founded by Dr. Greg Popcak in 1999, the Pastoral Solutions Institute is a Catholic behavioral tele-health practice providing over 15,000 hours/year of ongoing pastoral tele counseling services to Catholic couples, families and individuals worldwide.
About the Position
The Pastoral Solutions Institute has an immediate FULL-TIME opening (due to our high level of commitment to ongoing training/formation of our staff we are NOT accepting part time applications) for a new therapist to join our team of telephone-based pastoral counselors.
After a comprehensive, initial training period, the new clinician would work from home but serve as part of our integrated team of professional counselors and spiritual directors.  In addition to carrying a full case load, the clinician would be expected to participate in weekly staffings/trainings and other activities that support professional development and the mission of the Institute.
Qualifications
The applicant MUST…
-Have at least a masters degree in a mental health related discipline (counseling, clinical soc.wrk, marriage and family therapy, etc)
-Be licensed to practice INDEPENDENTLY in his or her state of residence.   PLEASE NOTE:  Applicants who do not hold a current, valid state license for independent practice WILL NOT be considered.
-Be a faithful, practicing Catholic in good standing in the Church and agree with the Magisterial teachings of the Church especially as related to marriage and family issues, including sexuality and natural family planning.
The Following Additional Qualifications are a PLUS but not specifically required…
-A degree,  formal training, and/or advanced independent study in Catholic theology
-Formal training (or advanced independent study) in the Theology of the Body
-Formal training (0r advanced, independent study) in attachment theory (relating to both children and adults)
-Familiarity with Dr. Greg Popcak's books in general and marriage and family life in particular.
The Application
Interested parties should please send the following to GPopcak@CatholicCounselors.com
1. Current CV
2. Brief 1000 word reflection on your faith development, current prayer life (including marriage and family prayer life if applicable) and a brief reflection on how the Church's teaching on marriage, family and sexuality impacts your life and relationships.
3. List of 3 references that could speak to both your professional and faith development (e.g, professional colleague, supervisor, pastor)  You DO NOT need to include reference letters.  ONLY names of references and contact information.