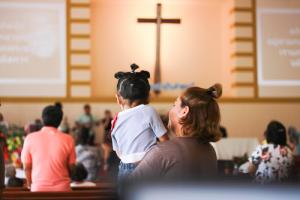 We want our children to appreciate mass, but bringing kids 3 and under to church can seem like walking a tightrope without a net!  It's easy to think, "What's the point?."
Even though small children's brains haven't developed enough to completely understand what's going on, with a little help, they can still appreciate the beauty and the ritual of the mass. And you can help them participate in ways that can be very meaningful to them.
Remember, very small children are in the "Cuddly Stage" of faith development. They need to FEEL God's love THROUGH you. Keep your little ones close.  Preferably on your lap or in your arms.  Give them lots of affection and quiet attention.
That might seem wrong at first. After all, aren't you supposed to be paying attention to the mass? Of course! But with small children the goal is to point out the wonder of the smells, bells, sights, and sounds of the mass, and experience it all through their eyes. Let the loving attention you're giving them remind you of God's attentive love for you.
Help your little ones participate as best as they can. Teach them when it's time to kneel, or stand, or bless themselves. At the time of the consecration, you might whisper, "Jesus is coming to show us how much he loves us. Can you say, "I love you, Jesus!'"  
Don't force them to do these things, but gently encourage them at the right times. They'll get it eventually. If they get antsy, just hold them close and focus on helping them experience God's love through you. You might even pray, "Lord, help me show my child how much YOU love them. Hold ME in your arms and help me feel your love for me."
Other things, like reading the gospel beforehand, and bringing a children's bible or missal can really help little ones follow along.
You can also give them "special words" to look for throughout the mass like "glory" or "amen" or "and with your spirit." Ask them to tap you when they hear the special word and reward them with a kiss and a cuddle.
These are just a few tips for bringing small children to mass. For more ideas, check out Discovering God Together: The Catholic Guide to Raising Faithful Kids.