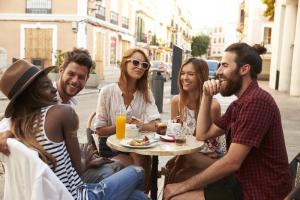 Do you ever just feel "off," but you don't know why? Everything seems to be fine, daily life is running along relatively smoothly, but you just feel down, melancholy, or disconnected from life/others?
A new study out of the University of Tennessee, Knoxville and Texas A&M reveals that making small changes—such as smiling more—can make an impact on our emotions and overall mood. It seems like a small change, but a meta-analysis of 138 studies demonstrates that smiling really can make us happier. 
"We don't think that people can smile their way to happiness," lead researcher, Nicholas Coles, said. "But these findings are exciting because they provide a clue about how the mind and the body interact to shape our conscious experience of emotion."
If simply smiling more can make an impact on our emotions, what are some other ways for us to lift our mood and feel reconnected?
Acts of kindness—Buy coffee for the person behind you in line, pick up flowers for your significant other on your way home from work, volunteer at the local food pantry. Acts of kindness give us the opportunity to go outside of ourselves and do something to help and bring joy to others. In return, this helps us to feel more positive, purpose driven, and connected to others!
Set daily goals—Setting small, daily goals allows us to feel proactive, productive, and in control. These goals can be anything from doing one load of laundry, to spending five minutes outside, or even simply brushing your teeth on days where accomplishing a larger goal just doesn't feel doable. Choose whatever small, attainable goal appeals to you each day. It's not about the task itself, its about the feeling of accomplishment!
Pray—Take time to pray each day. Share with God what you are thinking and feeling. No emotion is too big or small for God to handle. Ask God to help you express your emotions in ways that glorify Him. Setting aside time to pray, or simply praying as we go about your daily activities helps us to feel reconnected to God, to our surroundings, and to our purpose. 
Listen to music—Listen to music that reflects the mood you want to be in, not the mood that you are in. Often when we are sad, angry, etc. we listen to music that reflects that mood. This typically causes us to remain in this mood, however, listening to music that reflects the mood you want to be in (i.e. listening to happy music when you are sad or listening to energetic music when you are tired) actually causes us to adjust to a mood that better matches the music we are listening to. Surprisingly, this can make a big difference in our emotions throughout the day. 
For more on increasing positive emotions, check out Unworried: A Life Without Anxiety and tune in to More2Life—weekdays at 10am E/9am C on EWTN, SiriusXM 130!