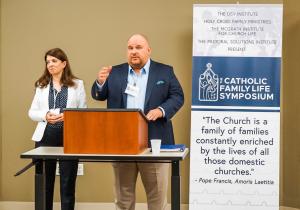 The Symposium on Catholic Family Life and Spirituality which concluded this past Sunday at Notre Dame was really a tremendous experience. I'd like to offer my sincere thanks to those of you who were praying for the effort. As we have received many inquiries about the event, I thought I would share a few themes that emerged from the various presentations.
Research has shown that parents have much more influence over their children's future faith than commonly thought, but this influence is more directly related to the quality of relationships in the home than it is to the education or religious practices a family engages in (Bengtson, Bartkus).
The experience of parental warmth–especially paternal warmth–in a religious household is the strongest predictor of parent's ability to help children own their faith and values into adulthood (Bengtson, Bartkus, Narvaez).
"Articulacy" (i.e., the parent's ability to present a coherent, personal story of why faith matters to his or her children) is a significant factor in familial faith transmission. This narrative doesn't need to be theologically sophisticated, but it needs to be personal and meaningful (Bartkus).
Additionally, grandparents are a much more influential force in familial faith transmission than commonly thought (Bengtson, Narvaez). Generational influences of warmth and relationship is a strong indicator for the transmission of faith to younger generations. 
Finally, Christian Family life functions as a liturgy that is (arguably) composed of three "rites" that facilitate development in the priestly, prophetic, and royal missions of baptism (the Rite of Attachment, The Rite of Rituals of Connection, The Rite of Reaching Out, respectively).The degree to which these "rites" are present represents the degree to which a family can effectively function as a "spiritual womb" and "school of love and virtue."
The entire Symposium was a truly anointed experience. We'll be posting the videos of all the presentations to the symposium website (CFLSymposium.org) as soon as they are edited, and OSV will be publishing a book/discussion guide for those who are interested in continuing the conversation.
We were pleased to announce the partnership between the Pastoral Solutions Institute and Holy Cross Family Ministries to form the Peyton Institute for Domestic Church Life. The new institute will conduct original research on family spirituality, organize professional trainings and family retreats, and produce initiatives/resources intended to promote the renewal of domestic church life. We are already exploring a major event for family ministers in 2020 to (tentatively) be held at the Peyton Museum of Family Prayer in North Easton, MA.
Thank you for your continued prayers for this effort and stay tuned for more awesome insights from this historic event!