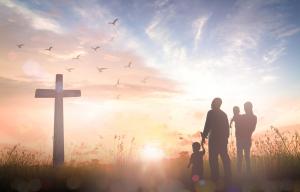 Praying together as a family—at all—can seem intimidating.
Life is busy, and because of this, most families are happy just to make prayer happen, much less make it meaningful.  But there's good news! You don't have to be a saint or have perfect kids to have an awesome family prayer time.
So how do we make our prayer time meaningful and teach our kids to have a personal relationship with God?
First, make family prayer a regular part of your everyday life.  Pick a time you're already naturally together–like dinner time or bedtime–and make spending some time with God part of that routine.
Second, remember that family prayer isn't just about saying words AT God.  It's about both helping your family enter into a real relationship WITH God, AND experiencing the Lord as another member of your household.
Third, it is important to teach your kids to talk to God just like they were talking to the person who knows them best and loves them most—because He does! 
Regardless of whether you're using formal prayers, like the rosary, or taking a more conversational approach, gently encourage everyone to slow down and really think about what they're saying. 
When you're using more formal prayer with little ones, don't forget to discuss what those strange words and phrases like "bounty" or "full of grace" or "trespasses" mean. You can't have a real conversation if you don't know what you're saying!
By remembering that prayer is meant to be an actual conversation with the person who knows you best and loves you most—God!—you can make sure your kids learn to pray with their whole heart.
Want more ideas for celebrating a meaningful family prayer life? Check out Discovering God Together: The Catholic Guide to Raising Faithful Kids!