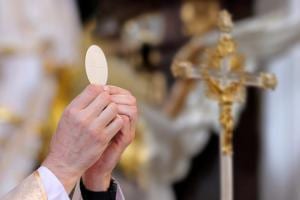 It felt like a gut punch.  This past week, the Ohio Bishops' Conference, along with many other dioceses and bishops' conferences across the country have suspended the celebration of Mass through Easter.
Last weekend was the first weekend I haven't been to mass since…I can't remember.  It was certainly the first time I have ever missed mass without being ill and unable to leave the house.  And I have never once missed any of the Holy Week liturgies—especially Easter Sunday mass. I found myself experiencing a mix of emotions; sadness, frustration, a spiritual ache, even some anger.
Not Alone
I know I'm not alone. I have had many conversations with clients in my Catholic tele-counseling practice and callers to my radio program around this issue.  People–already worried and anxious about how the pandemic is impacting their lives–are feeling cut off from their most important spiritual resources.  As one caller put it, "They are taking away the Eucharist when we need Jesus the most!"  
As I was praying through my own pain of not being able to receive Our Lord in the Eucharist, I felt the Holy Spirit move in my heart.  I remembered the parable of The Good Samaritan (Luke 10:29-37).
The Good Samaritan
You may remember that in the story, a man is beaten by robbers and left to die on the road. A priest passes by on the way to temple, but can't stop for fear of being made unclean from contact with the wounded man.  Next, a Levite, also fails to stop to help the man for fear of being made unclean and unable to attend temple.  Finally, a Samaritan stops to tend to the man's wounds and bring him to a place where he can be cared for.  At the end of the story, Jesus challenges us to be like the Samaritan. 
What does this have to do with our present crisis? It means we need to step back and ask our selves, "What is the point of going to Church?  What is the fruit the Eucharist is meant to bear in our lives?"  The answer, of course, is that by attending Mass and receiving the Precious Body and Blood, God heals the broken parts of our hearts so that we can more effectively love our neighbor as God needs us to.
Love One Another
Of course, the Eucharist exists to be a source of personal consolation, but it has to be more than that.  It has to ultimately equip us with the grace we need to love more, to love better, to love as God wants us to.
Loving someone means "working for their good."  If the entire point of receiving Christ in the Eucharist is loving others, what does it mean to "work for the good of our neighbor" in the midst of this pandemic?  It means willingly embracing the cross that social distancing requires of us so that we can "flatten the curve" and end this crisis quickly with as little loss of human life as possible.  Sometimes, true love requires abstinence.  This is one of those times.
A True Lenten Mortification
In Lent, we're called to make sacrifices that will enable us to love better and build God's kingdom. Sometimes, it can be tempting to choose sacrifices that make us feel good about ourselves.  "I'm going to do THIS for God!  Aren't I wonderful?!?"  Although rooted in a good intention, this misses the point. True sacrifice isn't about doing what we want to do for God. Rather, it's about doing what God asks us to do for him and our neighbor.
It takes real humility to cheerfuly accept the sacrificies God brings into our lives, to consecrate those sacrifices to him, and to ask him for the grace to rise to these challenges in a manner that glorifies him, helps us respond to the people around us in a way that works for their good, and helps us become the people he wants us to be.  
Spiritual Communion & Commission
If you are struggling, as I am, with not being able to attend mass for the next several weeks, bring it to God. Offer up your pain with a prayer that goes something like this.  "Lord, my heart is longing to receive you, but while I am waiting to be reunited with your Precious Body and Blood, fill my heart with your love and grace. Heal the broken parts of my heart.  Help me respond to this challenge in a way that gives you glory, shares your love more fully with the people in my life, and makes me the person you want me to be."
This prayer, and others like it, are what Catholics call "spiritual communion."  It represents a desire to pursue union with God and the grace to build his kingdom even when the normal avenues of grace (i.e, the sacraments) are not available to us.  God gives us the sacraments as a gift, but he is not bound by his sacraments and his love and grace rush to fill in any space we open to him.  
While we wait in joyful hope to be able to encounter the Lord at mass and receive him once again in the Eucharist, make a spiritual communion as often as you can and participate in masses broadcast on TV or the radio as opften as possible. Until we can once again receive the Body of Christ, let us all pray for the grace to be the Body of Christ—especially to those the Lord has placed in our path.