Dr. Gregory K Popcak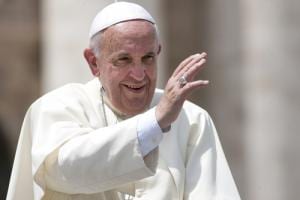 Pope Francis made the news New Years Eve for his response to a woman he met in a line of well-wishers.  The over-eager woman grabbed the Holy Father's arm forcefully and wouldn't let go.  The viral video shows Pope Francis wincing—some suggest in pain from his sciatica—and then turning and slapping the woman's hand twice before breaking free and storming off.
The next day, Pope Francis issued a simple, but humble apology.  He said, ""Love makes us patient. So many times we lose patience, even me, and I apologize for yesterday's bad example."
We used this event as an opportunity to explore apologies on today's show.  Many people think that apologizing for something means that they are accepting all the blame or admitting that they are a bad person.  For many, giving an apology means debasing themselves and so they are loathe to apologize for almost anything.
The theology of the body reminds us that building the Kingdom of God is primarily about healing the damage that sin does to our relationships with God and others.  Apologies are a big part of that process.  
But giving an apology doesn't mean that you are accepting all the blame.  It doesn't mean that it is all your fault.  And it doesn't mean that you are saying that you are a bad person. Likewise, giving an apology isn't a way of "evening the balance sheet" between people.
For the Christian, giving an apology has nothing to do with another person's behavior or the context we're in.  It simply means, "I have reflected on my behavior in the light of grace and my own expectations for myself.  Because of that, I believe that I should have handled that better and I am committed to handling similar situations better in the future."
Some callers to the show today argued that Pope Francis didn't need to apologize for his behavior because his response was a "human reaction" to being grabbed inappropriately.  Another person suggested that Pope Francis behavior was justified by every human being's right to self-defense.
Both of these points are absolutely true.  It was a human reaction and we do have a right to self-defense.  But these points are also irrelevant.  Apologizing doesn't necessarily mean I was wrong.  It means, "I believe I could and should do better in similar situations in the future."
By apologizing, the Holy Father didn't say, "I'm a bad person." Or "I'm a bad Pope." Or even, "This was all my fault."  (And in the last instance, it clearly wasn't all his fault."  By apologizing, the Pope Francis simply said, "I could and should have handled that better and I am committed to doing so in the future." 
We would all do well to follow his example in this instance.  Let's worry less about assigning blame, finding fault, or worrying about debasing ourselves.  Let's focus more on taking responsibility for our actions, acknowledging that there are often better ways to handling situations than our first impulses dictate, and committing to using those healthier, godlier alternatives in the future.