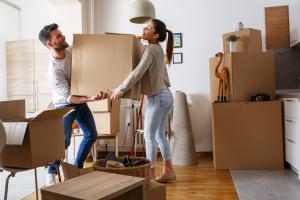 Celebrity couples live together, regular couples live together, if everyone's cohabiting, that means there has to be some benefit to it, right? Not so fast…
A new study published by the Institute for Family Studies found that cohabitation is rapidly becoming more popular than marriage, even "shotgun cohabitations" are statically more common than "shotgun marriages." However, research released by the National Marriage Project at the University of Virginia and The Wheatley Institution at Brigham Young University has reveled that married couples report three key differences in the quality of their relationships than couples who are cohabiting. 
According to the results of this research, the first statistically significant difference in these relationships revels that married couples are more likely to report relationship satisfaction than couples who are cohabiting. After controlling for factors such as age, education, and relationship duration, it was found that 54% of married women report higher levels of satisfaction while married men report 49% relationship satisfaction. When compared to their counterparts of cohabiting women and men, these individuals reported 40% and 35% satisfaction rates, respectively. 
Next it was found that married couples report greater levels of commitment in their relationship than couples who are cohabiting. As the top three reasons for couples to cohabit include convenience, financial benefits, and "to test a relationship," it should be no surprise that 46% of married couples report higher levels of commitment in their relationship, compared to approximately only 30% of cohabiting couples. 
Finally, research has found that married couples are more likely to report relationship stability than cohabiting couples. When respondents were asked how likely they were to say that their relationship would continue, 54% of married adults reported relationship stability and continuation, while only 28% of cohabiting adults reported stability and a future for their relationship—this includes cohabiting relationships that include children. 
This and further research reveals that cohabitation fundamentally changes the way that couples view marriage. Couples who cohabitate naturally develop the mindset of, "What if it doesn't work out?" This thought pattern that a cohabiting couple can simply move out and move on with someone else distresses these three important factors of relationship satisfaction, commitment, and stability that are essential to a successful and thriving marriage. 
When discussing these results, the Institute for Family Studies reports, "despite prevailing myths about cohabitation being similar to marriage, when it comes to the relationship quality measures that count—like commitment, satisfaction, and stability—research continues to show that marriage is still the best choice for a strong and stable union."
For information on how to have a successful and thriving marriage, check out Just Married: The Catholic Guide to Surviving and Thriving in the First Five years of Marriage, and find more resources by visiting us at CatholicCounselors.com!